This godmother was different
We are glad that part of this film has been preserved. It is a pity that the beautiful Technicolor of the tape has disappeared and a pity that the film is not complete. We wanted to show it to you anyway.

Trivia
Cinderella is not allowed to go to the ball until she has completed numerous tedious tasks. Of course, Cinderella succeeds.
This time, we will reveal the outcome. The wicked stepmother wanted to know how it was possible that Cinderella came to the ball with so many chores to do. At home, everything was clean and tidy, thanks to the help of "Lodalientje", Cinderella's fairy godmother. Lodaline was the brand of a 1950s all-purpose cleaner. When the wicked stepmother discovers that everything had been cleaned quickly and the Godmother sees Lodalientje, she speaks wickedly: "Lodalientje, I should have known!" It became a catchphrase at the time.

The brand image of LODA was used as a godmother. Presumably, the intention was to give this stylised logo a modern twist on an old story. In the lost end shot, this doll gave a great sense of style. Here are some brand images from that time.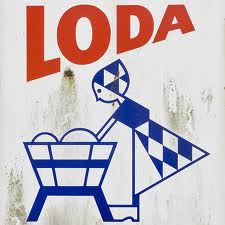 Title:

Cinderella's Secret
(Assepoester s Geheim)

Client:

Zeepfabriek De Fenix

Duration:

1 minute, 10 sec

Year of production

:

1955

Director

:

Henk Kabos

Music

:

Hugo de Groot

Animation:

Guus Harmsen

Puppets:

Harry Tolsma

Format:

35 mm, Technicolor
Highly recommended other Dutch Vintage Animation