Warm Friends
Puppet film in which a pretty girl on scates is turning the heads of serveral men. One gentleman tries to impress her, but goes unceremoniously through the ice. Quickly (but carefully), his friend supplies him with a flask of rum, to which the frosty victim adds his own as well. These warm him up, providing him with plenty of energy to leap out of his icey hole and show off his skating skills. Impressed, the pretty girl applauds him. The end shot shows the two life-sized bottles of rum with the text, "Have a good rum for your money".
Trivia:
This puppet animation was produced based on a successful and long-running ad campaign in England, with illustrations by the British cartoonist Ronald Searle.

The cartoonist designed the characters for illustrated ads, not as characters in a puppet film. Both the yellow skater's long spindly legs and torso as well as the plump short man's stubby legs caused numerous technical problems for the puppet makers. The puppets weren't just challenging to construct but also difficult to animate. The results have been well worth it, though. The credits don't mention any individual names. Creative direction is very likely by Henk Kabos. Animation by Cor Icke.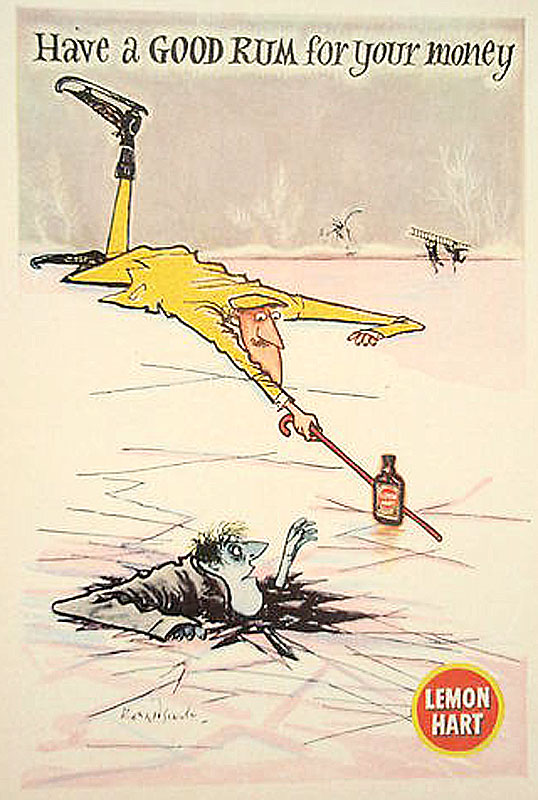 | | Title: | Warm Friends |
| --- | --- | --- |
| | Commissioned by: | Lemon Hart |
| | Duration: | 2 minutes |
| | Year of production: | 1958 |
| | Music: | unknown |
| | Art director: | Henk Kabos |
| | Animation: | Cor Icke |
| | Puppets: | Harry Tolsma |
| | Format: | 35 mm, Technicolor |
Highly recommended other Dutch Vintage Animation