The new Joop Geesink Studio's was opened on 28 April 1966 by HRH Prince Bernhard and the Minister of Economic Affairs, Mr Maarten Vrolijk.

Growth ambitions
Until this move, Joop Geesink's Dollywood was housed in very old barracks less than a hundred metres away. The old buildings were anything but representative. This film shows that Joop Geesink had ambitions to open a large theme park, "Holland Promenade". He realised that advertising films were a fleeting (temporary) medium and a theme park was something that would be permanent. This project would eventually fail in 1971, after years of difficult and very costly start-up and thus bringing Geesink Studios to bankruptcy.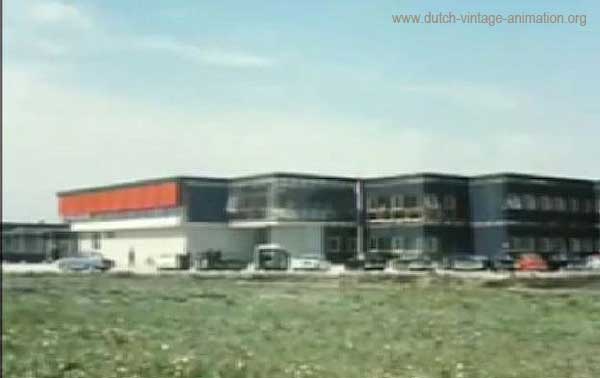 Multitalented
The studio was equipped for all forms of cinematic technique, so not only puppetanimation and cartoons, but also live action films and commercials could be made here. Geesink had also set up several companies with other commercial interests besides animation films. The new building, for example, housed a department for live action films, a comic strip drawing department, an advertising design studio and an events department for Holland Promenade. Plus merchandising for Holland Promenade.
Joop Geesink foresaw an enormous growth of all activities as soon as Holland Promenade was built. After all, dozens of pavilions with multimedia presentations would have to be built, plus the merchandising.


Supporting film
This film is from the Polygoon newsreel. These films were only shown in Dutch cinemas before the main film. Therefore, there is only a Dutch spoken commentary. Because the news value of this form of journalism was fairly limited, noteworthy events were selected that were worth rotating in cinemas for a few weeks as a 'newsreel'.
Historical photograph showing the old Dollywood barracks in the foreground and the new studio in the background.
Credits
| | Title: | Opening Joop Geesink Studio's |
| --- | --- | --- |
| | Produced by: | Polygoon journaal |
| | Year of production: | 1966 |
| | Duration: | 2 minutes |
| | Director: | Unknown |
| | Camera: | Unknown |
| | Voice Over: | Philip (Flip) Bloemendaal |
| | Format: | 35 mm, Eastmancolor |
Highly recommended other Dutch Vintage Animation