Recognisable problems
In a series of commercials, everyday inconveniences are magnified. The recognition is obvious and with a bit of humour there is a quick acceptance.

Joop Geesink produced a number of short television commercials for Heineken in the period 1968/69.
Although the origin is not 100% clear, it is often stated that the slogan "Deliciously Clear Heineken" was coined by Geesink in those days, whether or not in consultation with brewer Freddy Heineken. Joop Geesink's Dollywood has realised several puppet film campaigns for Heineken, also for the side brand Amstel beer.

Water head
These puppet films stand out in style because of their large heads. This was a fashion trend that could be seen in several films. The trend came from the world of comics. For cartoon and comic characters, this water head did not hinder the action. In puppet animation, the movement is considerably restricted because the arms could not reach beyond the head. Also, the doll must have been top-heavy and therefore difficult to animate.
While boarding the tram, the man is mangled. A series of interchangeable doll heads enhanced the effect.
The total length of the film is 30 seconds. However, the first 10 seconds is live action, then 10 seconds of stop-motion and then another 10 seconds of live action. So only 1/3 of the film is in puppet animation. This made the production of the films considerably cheaper, but the impression remained that it was a puppet film advertisement.
The same character appears in several Heineken films.

Wrist rest
It is funny to see that much effort was put into making the opening of the bottle as good as possible. The actor puts his left hand on a rest that has been placed just out of view. Apparently, a lot of force had to be applied to get the crown cap off.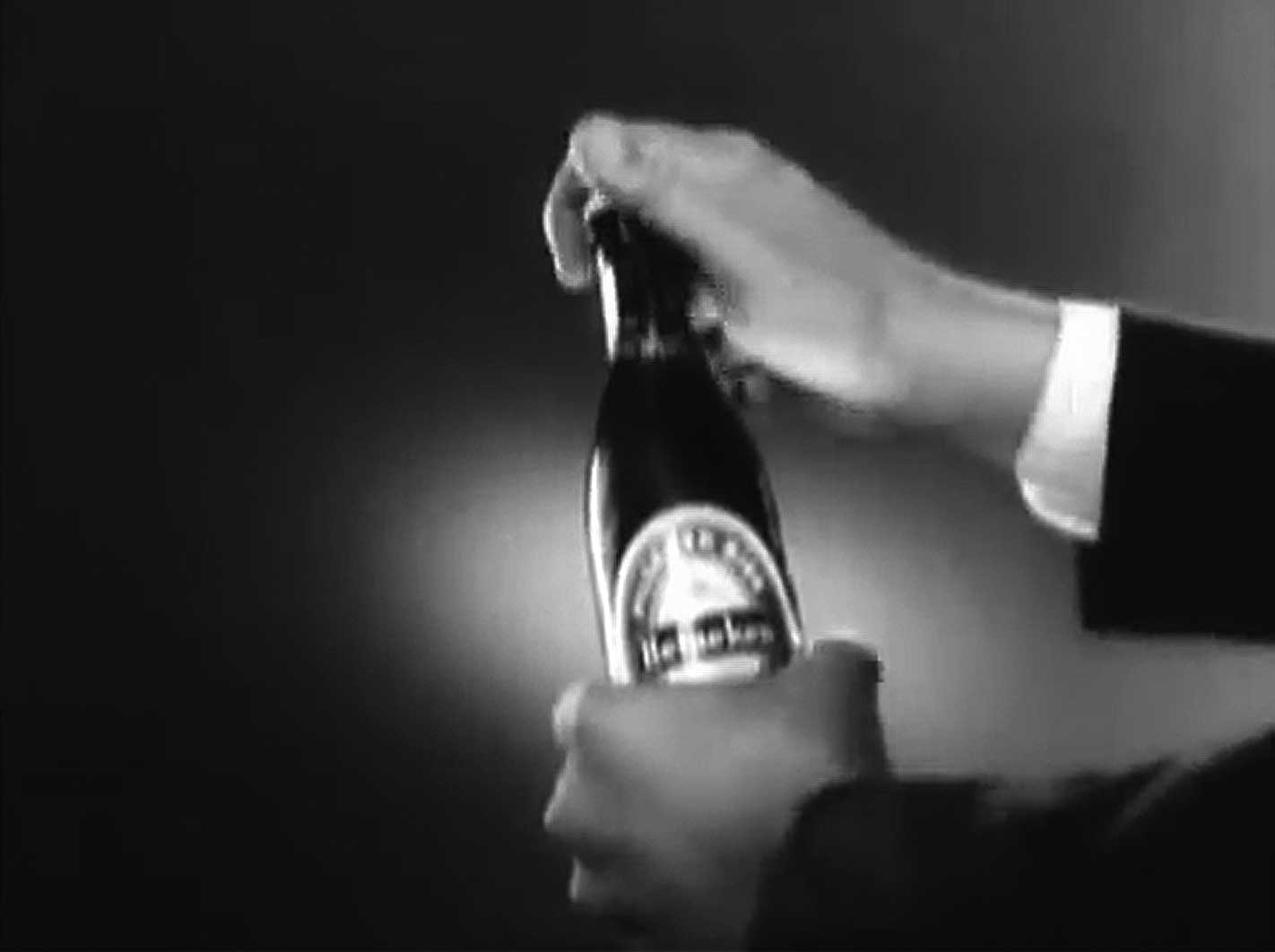 Credits
| | Title: | Tram (Streetcar) |
| --- | --- | --- |
| | Client: | Heineken breweries |
| | Year of prodution: | 1968 |
| | Duration: | 30 seconds |
| | Art Director: | Unknowd |
| | Animator: | Unknowd |
| | Puppets: | Harry Tolsma |
| | Format: | 35 mm, zwart/wit |
Highly recommended other Dutch Vintage Animation